Shavuot gives everyone the perfect excuse to match pastries and cheeses together. The Master Chef brand offers an easy, delicious and simple recipe for Shavuot. It is Gluteen-free Pastries – but nobody will feel the difference.
A recipe for spinach and cheese Gluteen-free Pastries (without pastries)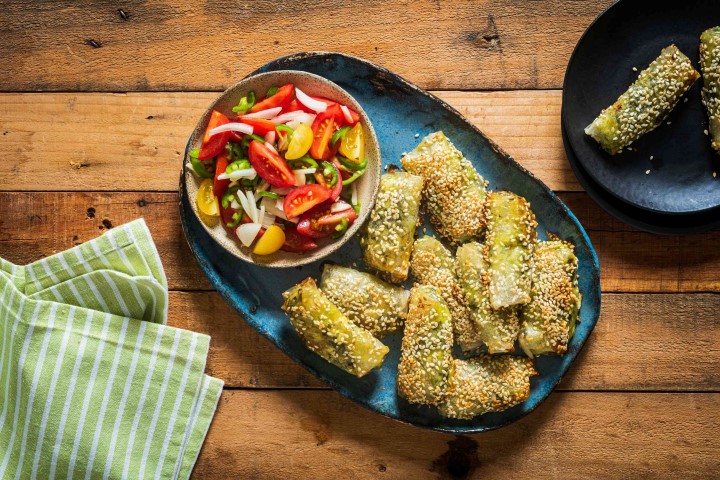 Ingredients for 30 small Gluteen-free Pastries:
30 sheets of rice 16 cm in diameter by Master Chef

3 cups chopped spinach leaves

Half a cup of chopped green onions

200 grams of feta or crumbled Bulgarian

100 grams of grated kashkaval

1 egg

4-5 tablespoons sesame seeds for coating
Instructions:
Preheat the oven to 180 degrees (preferably turbo) or 200 degrees regular.

Mix the chopped spinach with green onions, feta, kashkaval, and an egg in a bowl.
Pour water into a bowl that can fit the rice paper. Dip a sheet of rice paper for 10 seconds. Please note, this is critical. Because the intention is just to make it flexible, without it really softening.
Place a tablespoon of stuffing at the top and start rolling, in the second roll fold the edges inwards from the right and left and continue to roll so that you get a rectangular and tightly closed pastry, without cracks and tears – this is important. If there is a rupture the filling will drip.
Place at intervals in a pan with baking paper, sprinkle with sesame seeds and bake for 40 minutes or until the pastries are nicely browned. Cool slightly and serve with hard-boiled eggs and fresh vegetables.
Enjoy!