On these hectic days we are looking for fun activities that we can do at home with the kids. The Master Chef Brand offers an easy and wonderful recipe, served on a stick. A recipe that children will be more than happy to prepare together with their parents. And even more so, be happy to eat: Schnitzel on a stick.
Kids will go crazy over this dish, which combines their favorite dish with the most fun and friendly way of serving them.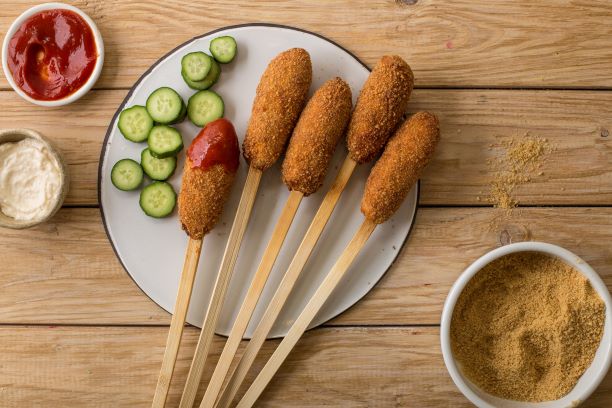 Ingredients for 6 servings:
500 g ground chicken breast

4 tablespoons Grissini crumbs Master Chef

1 chopped and fried onion

salt and pepper
For coating:
2 eggs

1 tablespoon ketchup

2 cups Grissini crumbs Master Chef
How to Prepare the Schnitzel on a stick:
Mix the ground chicken breast with bread crumbs and fried onions. Season with salt and pepper.

Form elongated patties and attach them to a flat skewer. Refrigerate.
Prepare two bowls: The first bowl should have the eggs seasoned which the ketchup. The second bowl should have the breadcrumbs
Dip the skewered patties in the egg mixture and coat well with bread crumbs.
Lastly, deep fry in oil until golden.
Enjoy!
To read this recipe in Hebrew, click Here