For Sukkot, it is customary to make rings for the lulav(palm branch) in order to unite the four species, strengthen the leaves, and connect with the hadas(myrtle) and arava(willow). Here is our guide to making Sukkot lulav rings easily and quickly. Includes an instructional video for making lulav rings.
On Sukkot, it is customary to take the four species (etrog, lulav, hadas, and arava) and bind them together to observe the mitzvah of taking lulav. The custom is to bind the four species together and carry them during the holiday.
The observance of the mitzvah takes place through the sifting and shaking of the four species in a special order during prayer. Those who follow the Ashkenazi version usually purchase a "booklet" called a "koishla". They bind it to unite the lulav together with the hadas and the arava. Whereas, according to Spanish custom, they are usually tied with strings or rings made from lulav leaves.
Another reason for making rings is to strengthen the lulav itself. For it is sometimes separated or unraveled following the shaking during prayer.
Here is the complete guide to a quick and efficient preparation.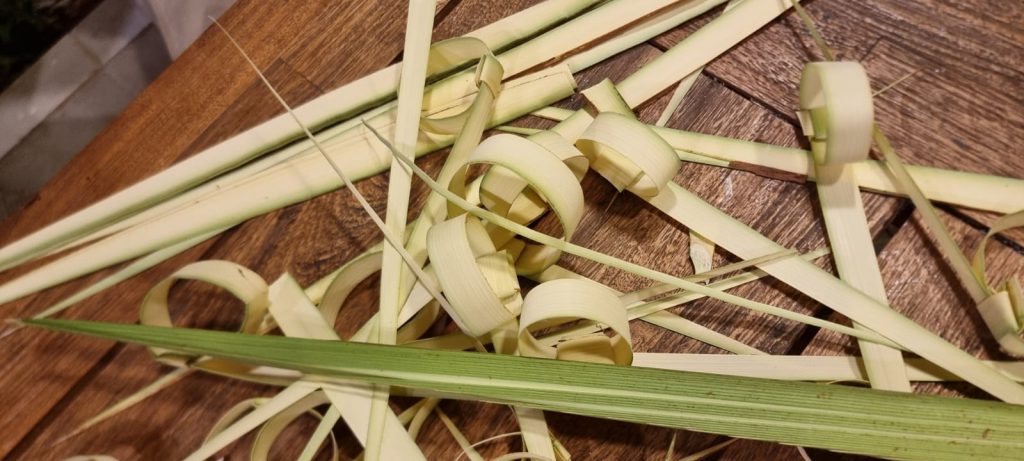 Materials required for preparation:
Two lulav leaves
Scissors
Preparation:
Chop the lower end of the two leaves.

Place the bottom edge of the first leaf over the bottom edge of the second leaf.

Fold the bottom leaf three times.

For the fourth time take the bottom leaf and make a complete rotation with the leaf.

Insert the end of the leaf into the resulting loop and pull it all the way. To the point where a combined square is formed at the bottom.

Take the bottom part and again put the thin and sharp end in a complete rotation to create a loop.

Chop the part that is not used to tighten the lulav.
Video on how to make lulav rings (English):
Video on how to make lulav rings (Hebrew):
To read this post in Hebrew, press here
Good luck and Happy holidays!