Park Anaba begins as an urban park that includes lawns, facilities and an artificial lake. But if you continue down the trail you will find miles of hiking and biking trails. On the sides of these trails there are many orchards and drinking facilities. It is recommended to visit on a sunny day after rain.
Park Anaba is named after the Anaba River. The stream flows east of the city of Modi'in and its channel runs along most of its route in the park. The main entrance to the park is via Hachshonim Blvd. or via Emek Zevulun Street. You can enter the natural path through the Bird neighborhoods, the Nofim neighborhood and the Avnei HaCen neighborhood. In the future, you will also be able to enter through the Moreshet neighborhood.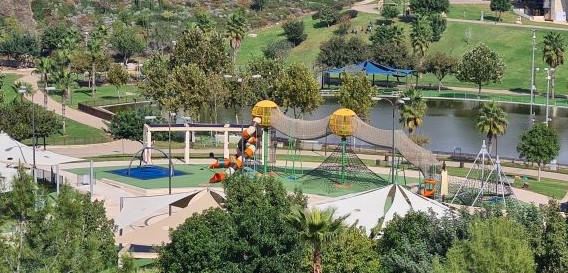 What is there at Park Anaba?
Park Anaba is divided into two parts. The central or urban part that has an amphitheater for performances. This amphitheater has around a thousand seats for people to sit in. The central part of the park also has an orchard and an artificial lake. The lake is huge, with an area of about 14,000 square meters. There is also a large play facility, picnic tables, and wooden benches. The second part of the park is the long trail that goes for miles. Feel free to go on a run or ride your bike on these beautiful trails.
The Park has many environmental sculptures in the form of dinosaurs, crocodiles, pelicans, and turtles. The various dinosaurs and animals are scattered along the park route to create a fun experience for visitors to the park. Most dinosaur sculptures are small except for two giant dinosaurs: T-Rex and Brichosaurus.
The Amazing Lake
The area of the lake in the park is 14,100 square meters (the extent of the lake – 570 m2. The volume of water when the lake is full – 11,000 cubic meters). Lost of algae and other green plants have been placed into the water to form an ecological balance that helps maintain water quality. The lake has also been introduced to hundreds of amazing gambusi fish.
The Anaba Trail
The Anaba Trail begins at the bottom of the center of the park. The trail passes through Wadi Anaba, located between the Birds neighborhood and the Gems neighborhood. It continues between the Nofim neighborhood and the Moreshet neighborhood to the Pati Modiin train station. The path is about 4.5 km long and 4.5 m wide. Along the path there are seating and shading areas, a lighting system, trash cans, and fountains. In addition, fruit trees and limes have been planted to serve as water storage facilities for growing trees and vegetation. The end of the trail does not include lighting or trash cans to preserve the natural values of the place.
For more information about the park, click HERE