Vegetarian lasagna: an easy and delicious meal that can be prepared with the children at home! These days, when we are at home with the children, you can make easy and delicious recipes that can be prepared as a family meal. It will provide an experience both in their preparation and in the meal.
Out of ideas and the children are bored? The Brilla brand offers a comprehensive solution to all problems:
A satisfying and vegetarian meal, a delicious and easy-to-prepare lasagna that will keep the children busy in the kitchen. Meanwhile, you can go rest and take a break from the kids. This way you can return fresh to the dining table with a dish prepared by the children. You will get up to aromas of quality pasta in a rich tomato sauce that together create an irresistible soft lasagna. It is a feeling that will take you to Naples in southern Italy!
The Brila brand offers a winning recipe for a personal vegetarian lasagna! Easy to prepare, delicious, and the children will be happy to participate in the preparation. And also to eat!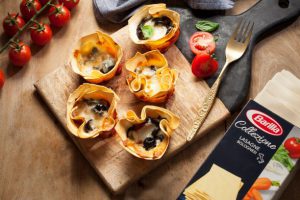 Ingredients:
12 lasagna leaves

1 jar of pomodoro sauce
12 slices of eggplant roasted in the oven or fried
200 grams of grated mozzarella cheese
100 grams of pitted black olives
Olive oil to lubricate a socket mold
Preparation:
Cook the lasagna leaves in boiling water until soft and dry on a towel and cut in half.

Grease a baking tray and place a tablespoon of sauce on 2 of the lasagna leaves. Then, place over 2 halves of lasagna leaves and place sauce, eggplant, and cheese in them and sprinkle olives over.
Bake for 20 minutes at 180 degrees.
Where does lasagna come from?
 The lasagna originally comes from the city of Naples in Italy. This is an ancient traditional Italian dish that has been passed down through generations of Italians and is known as a fine Italian delicacy around the world.
The name "lasagna" comes from the Greek language: lasanon. The word means tub – the Romans also adopted the word but changed the meaning a bit – for a cooking pot!
There is another theory that the origin of the dish is generally English, from the 14th century, straight from the court of King Richard II who loved to eat a dish called lasagna: his recipe was published in the first cookbook published in England. Of course, the Italians do not appreciate this theory – because the Romans used the name earlier and it is more likely that from ancient Rome the recipe fell into the hands of your chef King Richard. The author of the article tends to agree with the Italians and think that the ingredients of lasagna are definitely reminiscent of other Italian dishes that have become a favorite around the world.
Enjoy!